The NUSeq Core is a shared resource facility that serves investigators at Northwestern University, affiliated institutions, and external academic and commercial organizations. We bring services previously provided by the Genomics Core Facility and Next Generation Sequencing Core together into one consolidated operation. The facility provides a wide range of next generation sequencing and microarray processing options to meet your needs, in addition to other genomic services such as DNA extraction, and RNA quality control. In addition, the Core provides in-house bioinformatics analysis. Our trained staff can assist with every step of your project, from design to analysis. 
Core Mission 
NUSeq Core is committed to providing next-generation sequencing and other state-of-the-art genomics technologies, with integrated bioinformatics support, to Northwestern life science and biomedical research.
NUSeq accomplishes this mission through:
Providing cost-effective, full in-house services to NU researchers, from experimental design, sample preparation, to data generation and analysis
Developing new genomics methods, while providing customization/optimization to meet specific individual needs
Fostering interaction and collaboration among investigators and research units on genomics research endeavors.
Supported Research 
Below is a list of some of the most recently published studies supported by NUSeq. Researchers – please share your research with us if we are part of your success. 
Lee, II, K. Maniar, J. P. Lydon, and J. J. Kim. "Akt Regulates Progesterone Receptor B-Dependent Transcription and Angiogenesis in Endometrial Cancer Cells." Oncogene (Mar 21 2016).
Zhao, B., Y. Mei, M. J. Schipma, E. W. Roth, R. Bleher, J. Z. Rappoport, A. Wickrema, J. Yang, and P. Ji. "Nuclear Condensation During Mouse Erythropoiesis Requires Caspase-3-Mediated Nuclear Opening." Dev Cell (Mar 7 2016).
Moyle-Heyrman, G., M. J. Schipma, M. Dean, D. A. Davis, and J. E. Burdette. "Genome-Wide Transcriptional Regulation of Estrogen Receptor Targets in Fallopian Tube Cells and the Role of Selective Estrogen Receptor Modulators." J Ovarian Res 9, no. 1 (Feb 15 2016).
Liu, X., A. S. Henkel, B. E. LeCuyer, M. J. Schipma, K. A. Anderson, and R. M. Green. "Hepatocyte X-Box Binding Protein 1 Deficiency Increases Liver Injury in Mice Fed a High-Fat/Sugar Diet." Am J Physiol Gastrointest Liver Physiol (Dec 15 2015).
Perelis, M., B. Marcheva, K. M. Ramsey, M. J. Schipma, A. L. Hutchison, A. Taguchi, C. B. Peek, et al. "Pancreatic Beta Cell Enhancers Regulate Rhythmic Transcription of Genes Controlling Insulin Secretion." Science (Nov 6 2015).
Manzano, M., E. Forte, A. N. Raja, M. J. Schipma, and E. Gottwein. "Divergent Target Recognition by Coexpressed 5'-Isomirs of Mir-142-3p and Selective Viral Mimicry." RNA 21, no. 9 (Sep 1 2015).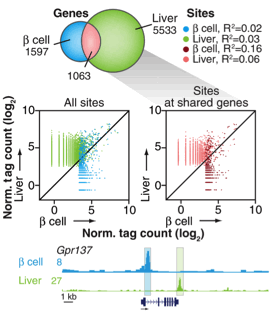 Differential binding of the transcription factor BMAL1 to gene targets in liver and pancreatic β cells.
(Mark Perelis et al. Science 2015;350: aac4250)
Acknowledge NUSeq
Please acknowledge the Core in your publications or press releases. Doing so will ensure that we can serve you better in future.
Kindly add the following statement to your acknowledgments:
"Research reported in this [publication/press release] was made possible in part by the services of the NUSeq Core Facility, which is supported by the Northwestern University Center for Genetic Medicine, Feinberg School of Medicine, and Shared and Core Facilities of the University's Office for Research."