Electronic Medical Records and Genomics (eMERGE) Network
The national Electronic Medical Records and Genomics (eMERGE) Network launched in 2007 with funding from the National Institutes of Health to incorporate DNA biorepository data with electronic medical record (EMR) systems for large-scale, high-throughput genetic research. Northwestern was one of 5 sites originally funded for this project and continues as a funded site for eMERGE through 2020. See below for summaries of eMERGE I, II and III.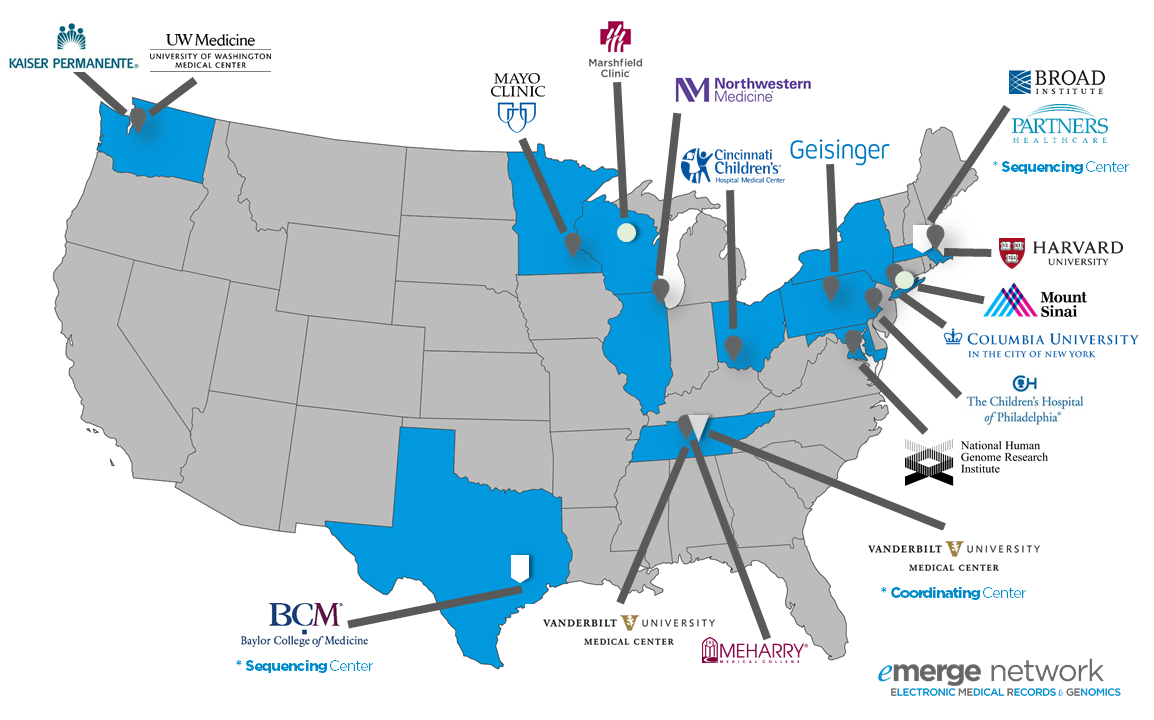 Current Goals
Now in Phase III until May 2020, the Northwestern eMERGE team is focused on the following goals:
Perform electronic phenotyping and genomic analysis on at least four novel phenotypes of medical, scientific and public health importance.
Consent 3,000 ethnically diverse participants who agree to receive results about clinically actionable variants found in their genotyped genes and return appropriate information to them.
Expand our ancillary genomics system to incorporate sequence data, including whole genome and exome sequence, and develop strategies for transferring actionable variants into EHR to enable clinical decision support.
Develop and share best practices, expertise and experience for:

creating tools and methods for rapid and accurate phenotyping;
assisting patients and families in making choices about genomic testing/results;
sharing of clinical and family history data with families;
storing and representing genomic data in the EHR; and
understanding downstream effects of genomic sequencing results on the healthcare system, patient and family.
The eMERGE I and II project outcomes demonstrated the value of longitudinal clinical care data captured in electronic health records, namely the identification of new genetic variant disease associations. The eMERGE III consortium continues this progress through the development of novel algorithms and the use of the large eMERGE dataset to identify novel variant-disease associations and move into the domain of rare genetic variants.
History
 eMERGE Phase I
In eMERGE Phase I (September 2007 to July 2011), each participating institution led studies of the relationship between genetic variation and at least two common human traits among the network participants. Sites also explored the ethical and social issues associated with large-scale genomic research.
The Northwestern eMERGE team led the implementation of diabetes, asthma, lipids and several other phenotype algorithms. During Phase I, investigators successfully analyzed genome-wide association study data to discover new and validate known genetic associations with type II diabetes and height in African-Americans. The NUgene Project biobank, Northwestern's hospital-based biorepository, served as the source of DNA samples and data used for the eMERGE studies. The Northwestern team also led studies on the public perception of participation in genetic research and data sharing of genomic research results and the understanding of IRB professionals of data sharing for genomic research.  
In Phase I, the eMERGE consortium validated the hypothesis that clinical data derived from electronic medical records can be used successfully for complex genomic analysis of disease susceptibility across diverse patient populations. In addition, the network showed the efficiency that can result from the use of electronic health record data. For instance, genotypes for type II diabetes patients have also contributed to research of cardiac QRS duration, hypothyroidism and a dozen other phenotypes.
 eMERGE Phase II
The aim of eMERGE Phase II (August 2011 to July 2015) was to provide a meaningful assessment of key elements necessary for the implementation of genome-informed personalized medicine via the tracking of patient and physician actions and responses to genetic information through electronic medical records.
In eMERGE II, the Northwestern team led the development of phenotyping algorithms for diverticulosis and diverticulitis, colon polyps, caMRSA and the sub-phenotype for asthma exacerbations, as well as implemented adult and pediatric phenotype algorithms led by other eMERGE II sites. 
In addition, Northwestern furthered progress on a pilot project of genome-informed clinical care. Scientists identified and validated the association between genetic variation and clinically relevant conditions (Hemochromatosis, Factor V Leiden, Prothrombin and Pharmacogenetic variants). The Northwestern eMERGE II team has also begun to define what makes a genetic variation clinically actionable, to develop technical and regulatory solutions to integrate genomic information into the EHR, to assess physician and patient attitudes toward the value of these data and to develop strategies to educate physicians and patients in the use of genomic data.