Director's Message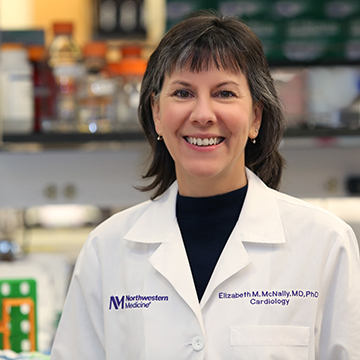 Welcome to the Center for Genetic Medicine. This is a remarkably exciting time in the field of genetics because of the capacity for large-scale DNA sequencing. Technological advances now allow rapid and accurate determination of gene sequences, and it is now possible to uncover genome differences from simple organisms to people. Human genomic variation harbors important information to help us make better health decisions and develop new drugs, and the Center for Genetic Medicine is uniquely poised to build on its strong foundation and change the way genetic information is used in healthcare.
Research and Core Facilities
The research of in the Center for Genetic Medicine reflects the diverse talent and collaborative spirit of the Northwestern University network. Our faculty members represent 33 departments and programs across three Northwestern University schools and three Feinberg-affiliated healthcare institutions.
This extensive research enterprise is supported by three core facilities that promote genetic research. These core facilities — NUSeq Core, the NUgene Project and the Transgenic and Targeted Mutagenesis Laboratory — and Northwestern's Genetic Counseling program offer investigators at Northwestern and beyond access to the equipment, technology and expertise needed to deepen our understanding of genetics and how we can apply what we know to the biology of human disease and the practice of medicine.
Education
We believe in creating an environment where information about genetic advances is available to all. We offer seminars, groups and other events where faculty and leaders in the field of genetics can present to the Feinberg community and the general public. The Center for Genetic Medicine serves as the academic home for Northwestern University's Graduate Program in Genetic Counseling. Having the Northwestern Genetic Counseling program within the Center for Genetic Medicine exposes students to the latest discoveries, as well as all the unique clinical experiences that are available through Northwestern Medicine.
Thank you for your interest in our center. For more information, please contact us.