Core Facility Equipment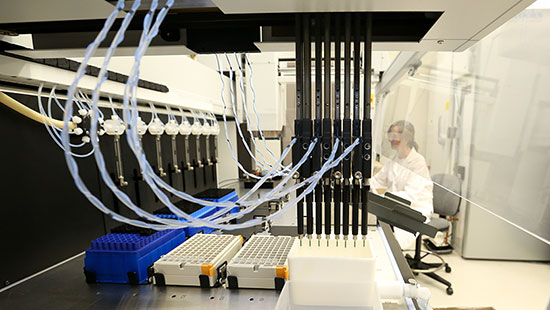 The JANUS Automated Workstation liquid handler platform can be used to aliquot DNA samples, chemical reagents and buffers and to automate molecular biology protocols. The 96-well and 384-well plates can be used for downstream analysis on other instruments, such as next-generation sequencers, PCR machines or SNP analysis.
JANUS improves the efficient and safe handling of samples. JANUS accurately pipettes the required sample volume from the DNA tubes in sterile conditions and aliquots specimens in a faction of the time required for a technician to manually aliquot a sample order.
NUgene provides compatible labware such as pipette tips and microplates.
JANUS MDT Liquid Handler
Provides walk-away automation for plate replication pipetting
Replicates 96-well microplates and tubes
Capable of replicating one 96-well microplate in less than 1 minute
Configurable with storage tubes (1.4ml, 0.75ml, 0.5ml) and standard 96-well microplates
JANUS Varispan Liquid Handler
Provides walk-away automation for precision pipetting
8 independent channels with liquid level sensing for dispensing custom volumes
Configurable with storage tubes (1.4ml, 0.75ml, 0.5ml) and standard 96-well and 384-well microplates
Normalize samples with custom water or buffer dilutions
Allows creation of custom templates to accommodate different sizes of storage tubes and variable sample volumes
The custom-built RTS A3 smaRTStore fully automated freezer system is capable of storing ~240,000 samples at -20C for long-term archival purposes. Samples can be quickly retrieved when needed, and the Walkway Unit allows for extended unattended operation. In conjunction with the JANUS platform, it is easy to aliquot your sample collection into the required tubes, then store them in the smaRTStore.

The smaRTStore automated sample management has the following features:
Fully automated sample storage
Stores 0.75ml and 0.5ml Matrix tubes at -20C
Retrieves samples by robotic cherry picking
Retrieval time is 6 seconds/tube
Sample Storage in -80C Freezer
NUgene also offers sample storage for any sample type at ultra low temperatures. Our Thermo Fisher Forma 903 upright freezer can store DNA, blood, serum, chemicals, and tissue samples at -80C. Our -80C freezer is located in the freezer farm of the McGaw basement.
The FluidX high speed automated whole rack tube capper/decapper is a stand-alone instrument that quickly caps and decaps Sepraseal caps from a full 96 well tube rack.
Caps and decaps SepraSeal and DuraSeal caps for 96-well storage tubes
Compatible with 0.75 and 1.4ml Sepraseal storage tubes
Can be integrated in the JANUS liquid handler workflow
Can either dispose of caps or recap the same caps back into the same tubes
Requires 15-30 seconds per plate
The Visionmate Flatbed 2D barcode reader is a 3-rack scanner for Matrix storage tubes.
Scans Matrix 2D barcoded storage tubes (1.4ml, 0.75ml, 0.5ml)
Scans 3 96-well racks in less than 1 minute
Connects to PC via USB port to export 2D barcode and tube position to .csv file
Can be integrated in the JANUS and smaRTStore workflows