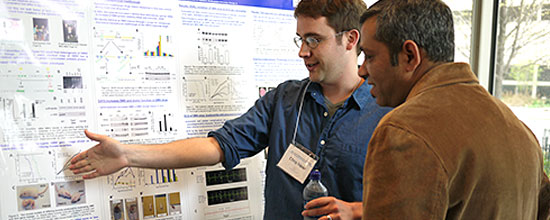 The Mouse Genetics Group was established in 2007 to provide a forum for researchers to share ideas, experimental approaches, and resources, while providing opportunities for labs wishing to develop transgenic mouse models to connect with the broader community. The Mouse Group is led by Raj Awatramani, PhD, Scientific Director, Transgenic and Targeted Mutagenesis Laboratory (TTML), Center for Genetic Medicine, and Assistant Professor of Neurology, Feinberg School of Medicine; and Tom Bozza, PhD, Assistant Professor of Neurobiology, Weinberg College of Arts and Sciences, and is supported by the Center for Genetic Medicine.
If you are interested in becoming a member of the Mouse Genetics Group, please contact Raj Awatramani or Tom Bozza.
---
Mouse Genetics Group Database
The Mouse Genetics Group also maintains a database to serve as a repository for information about participating mouse genetics laboratories at Northwestern University. The database contains research descriptions, areas of expertise, and lists of shared reagents. Members of the Mouse Genetics Group can add reagents to the database and view reagents that are available from other laboratories.