Graduate Program in Genetic Counseling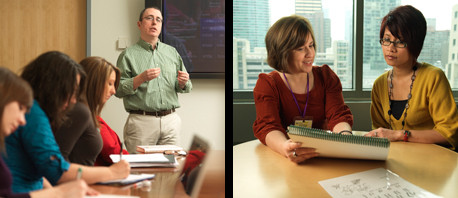 Northwestern University provides a strong foundation in core genetic counseling skills and identifies each student's strengths in order to ignite the passion and lifelong commitment to learning that is critical to professional development. Graduates not only feel extremely capable in multiple clinical settings and specialties, but also recognize how valuable their training has been in preparing them for expanded genetic counseling careers.

Since the inception of the Northwestern University Graduate Program in Genetic Counseling in 1990, the leaders of the program have strived to look to the future of the genetic counseling profession to help guide the overall administration and curriculum. The field of genetics has evolved rapidly over time, and graduate programs need to be aware of the changes that will continue to shape and influence the profession. Northwestern has continued to successfully evolve to meet these changing needs. There are several strengths that allow Northwestern to maintain this cutting edge:
Location in the heart of vibrant downtown Chicago and affiliation with the highly regarded Feinberg School of Medicine and McGaw Medical Center. The McGaw Medical Center includes Northwestern Memorial Hospital and the Ann & Robert H. Lurie Children's Hospital of Chicago, and is ranked in the top 15 major teaching hospitals and top 100 hospitals nationally
Approximately 25 clinical rotation sites located in the Chicago area and surrounding neighborhoods which serve an incredibly diverse population
Wide-ranging faculty with varying expertise, including cardiovascular, neurogenetics, reproductive genetics, industry, biobanking, research and public health; drawn from Northwestern and other nationally recognized private and academic centers in the Chicago area
Program directors and faculty with extensive experience at the state and national level, including direct working relationships with the Illinois Department of Public Health, the National Society of Genetic Counselors, the American Society of Human Genetics, the Secretary's Advisory Committee on Genetics, Health and Society, the Centers for Disease Control and the Institute of Medicine
Emphasis on professional development, networking and job placement
This unique combination, along with the personalized attention a student receives during their training, creates an exciting learning environment and is one of the major strengths of the Northwestern program. We believe our students deserve a strong science, research and psychosocial curriculum.

In addition, Northwestern is proud to offer one of the only dual degree programs available in Genetic Counseling and Medical Humanities and Bioethics.

The combination of the program's nationally recognized faculty, the diversity of clinical and patient experiences, and the cultural excitement of its location in Chicago makes this program unique, exciting and visionary!
Learn more about the program via the links below.