John Hawks, PhD, Unearths Story of Homo naledi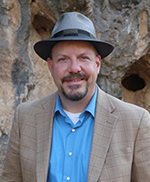 The Center for Genetic Medicine welcomed John Hawks, PhD, Vilas-Borghesi Distinguished Achievement Professor of Anthropology, University of Wisconsin-Madison, as the March 2017 Silverstein Lecture Series speaker. Dr. Hawks presented a seminar titled "Almost Human: How New Discoveries from South Africa Change Our View of Human Origins."

Professor Hawks discussed the recent discovery of a huge trove of fossil bones identified as a new ancestral form of human, Homo naledi in the Rising Star cave system of South Africa. His lecture took guests on a virtual exploration of the cave and featured the brave team of "underground astronauts" who worked in this dangerous environment. Dr. Hawks also discussed new discoveries made by the scientific team that help to place Homo naledi in an unexpected place in our origins.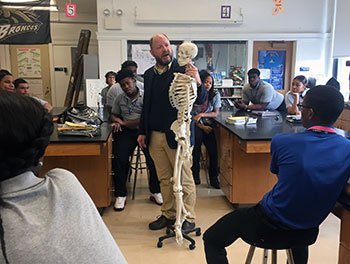 As part of the Silverstein program, Dr. Hawks joined teacher Laura Decker's class of Advanced Placement (AP) Biology students at Wendell Phillips Academy High School in Bronzeville for a pizza lunch and conversation about his current research and career as a scientist.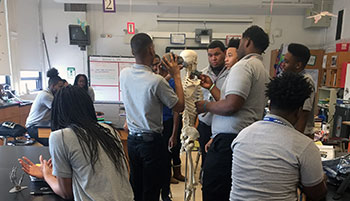 Dr. Hawks shared 3-D printed replicas of Homo naledi fossil bones, and the group compared the similarities and differences of the fossils with an anatomical skeleton of Homo sapien.
The Silverstein Lecture Series was established by the Herman M. and Bea L. Silverstein Medical Research Fund for Genetic Medicine to bring advances in genetics research and medicine to the general public. Twice a year, the series features a renowned expert who discusses his or her research in a community forum. The events are always free and open to the public.